Fair Ambassador Information
APPLY TO BE A YAMHILL COUNTY FAIR AND RODEO AMBASSADOR
The mission of the Yamhill County Fair & Rodeo program is to provide a scholarship for higher
education to
outstanding young people in a program that perpetuates an appreciation for Yamhill County Fair &
Rodeo history and
tradition while promoting community outreach and volunteerism.
Being selected as a Yamhill County Fair & Rodeo Ambassador is an honor and an outstanding
opportunity; it is also a
large responsibility. The position requires a time commitment and adherence to strict behavioral
standards that, at
times, may prevent participation in other school or personal activities.
Please consider the following before applying:
Ambassadors are public figures. Your words, your actions, and your past may be discussed by your
school, the
media and the community. As an "Ambassador", you are always "on the record." Think about what
this means to you
and your family before you apply.
During the school year events will take place either after school or on weekends. During June,
July and August
you will be attending and speaking at events around the County promoting the Yamhill County Fair
& Rodeo.
Ambassadors will be responsible for their own transportation; being on time for every event is
of utmost
importance.
Eligible Candidates:
Male or Female – unmarried
Permanent resident of Yamhill County
Be a graduating Senior this year or next year
Have a minimum 2.5 cumulative GPA
Must submit a sealed high school transcript along with application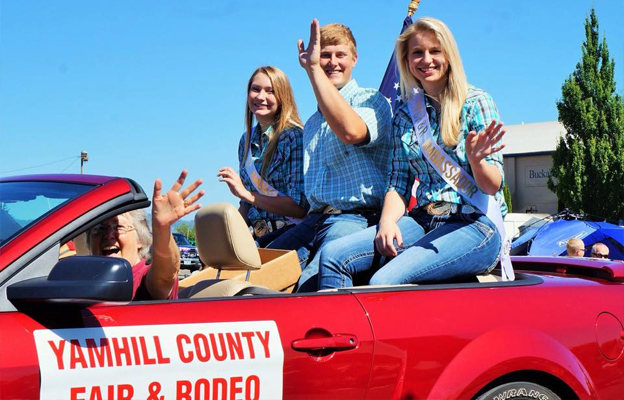 MEET YOUR FAIR AMBASSADORS
Ava Hargett
Fair Ambassador Ava Hargett, a 2023 graduate of Dayton Senior High School, was President
of both the Dayton FFA Chapter and the Lower Willamette FFA District and Captain of the
Varsity Volleyball Team. Ava's advanced nursery landscape team placed first at the 2022
State FFA competition. She will show a market steer at this year's County Fair. Ava
plans to study Viticulture in Italy and play international Volleyball for Rome City
Institute.
Calli Jordahl
Fair Ambassador Calli Jordahl raises cattle and market lambs and has participated at the
County Fair for seven years. She is a 2023 graduate of Yamhill-Carlton High School.
Calli has competed in FFA Career & Leadership Development Events at State, including
Parliamentary Procedure and Conduct of Chapter Meetings. Calli wants to become a
Pediatric Physician Assistant and will attend the University of Colorado.
Hannah Hurty
Fair Ambassador Hannah Hurty, a 2023 graduate of Summit Learning Charter, serves as
President of the Country Critters 4-H Club and won 4-H Senior Sheep Showman in 2022.
Hannah is the American Legion Oratorical Oregon State Champion and competed nationally
in speech at the National Christian Forensics and Communications Assoc. Hannah plans to
enroll in the Nursing program at George Fox University.
Nora Liesegang
Fair Ambassador Nora Liesegang has been involved in 4-H and FFA. She is a 2023 graduate
of Yamhill-Carlton High School. Nora has shown market goats for 10 years and entered
Open Class art and photography. She was FFA Chapter Vice-President, Varsity Wrestling
Team Captain, and a National Honor Society member. Nora will major in Animal Science at
Colorado State University. Her goal is to be a veterinarian.
The 2023 Fair Ambassadors want to sincerely thank the following Sponsors for their generous
donations funding the college scholarships:

Yamhill County Board of Commissioners
Cascade Steel Rolling Mills Inc.
United Steelworkers Local Union
Kit Johnston Farms